We wouldn't want you to miss out if the cost of our courses is an issue! That's why we are always trying to find ways of helping you cover the cost of attending our courses. See below for current funding opportunities:
Scottish Lime Centre Trust's Traditional Building Skills Bursary Scheme
- If you are based in Scotland and fall into any of the categories below, you are may be entitled to free training days:
Student / Apprentice of the built environment
Employee of company with 5 or less employees
Sole trader
Non-VAT registered
Unemployed (for people actively seeking work)
Places are limited and will be offered on a first come first served basis. APPLY NOW! (299.7 KB)
We are not accepting any more applications at this time, please sign up to our mailing list for update!
Disclaimer: Please note that bursary is based on £150+VAT per day cost which consist of £120 funding grant from HES and  £30 contribution from SLCT. If you are applying for a course costing over £145 per day, please contact our admin on 01383 872722 as you may have to pay a portion of the cost.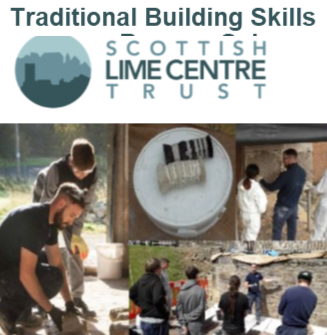 HES offer various grants including the Historic Environment Support Fund.
This is a small fund used to provide support for one-off heritage events, small projects and training activities. The funding grant can go towards training in traditional skills and payment for travel and study costs associated with the use of traditional materials. Please visit Historic Environment Scotland's website for full details.
The CITB Grants Scheme provides grants for employers in the construction industry to train their workers. The scheme helps to maintain health and safety standards on construction sites and to ensure the right skills are available for the industry to grow.
Please contact CITB or visit their website for information on eligibility and how to apply.