Building Materials Analysis
The key to a successful conservation or repair project is to understand the materials with which you are dealing.
At the Scottish Lime Centre Trust we have an in-house laboratory for building materials analysis and assessment, supported by external associated laboratories for more in-depth and alternative analysis procedures.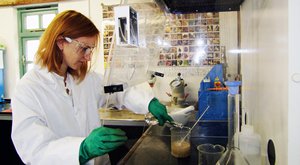 Materials analysis is commonly carried out…
to guide materials specification for repair;
to identify the causes of failure;
for archival and archaeological records. 
Understanding the materials that are already present on a building will allow successful repairs to be specified allowing a new material to work well with the existing materials and therefore extending the lifetime of the building or structure in question by correct functionality of the materials involved.
Materials analysis can be carried out as a stand-alone service, or as part of our Buildings Advisory Service such as a building investigation or survey including specification writing.
Please select the material type you wish to have analysed for more information.